Meet Our Donors
We thank all our planned-gift donors for their generous support. Here are some of their stories.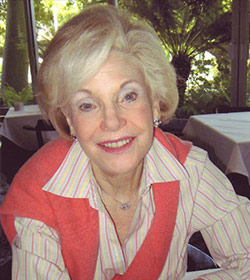 DIANE MORTON
Inspiring Future Generations
An integral part of The Music Center family, Diane Morton has been devoted to the arts as a supporter, volunteer, and advocate for nearly four decades. Her most recent act of devotion is a $1 million bequest to The Blue Ribbon Children's Festival as well as a gift to support dance programming.
For Diane, the annual Children's Festival embodies one of her favorite programs at The Music C enter. She enjoys watching the faces of the nearly 18,000 fifth grade children as they experience a live performance and then make their own art by participating in a group dance on The Plaza each year. She believes it's extremely important for children to get involved in the arts at a young age. Early exposure not only inspires students, but it also helps them grow an appreciation for the arts and builds the next generation of art patrons.
A love for the arts and a commitment to philanthropy were instilled in Diane at a young age. She cheerfully recounts the special field trips she would take to New York City to visit the theater. Just as passionately, she talks about how her family was involved with local organizations and how she was taught the joy of giving no matter what one's means.
Diane believes that children lead by example and that's why it was important for her to continue the family tradition of philanthropy by making her bequest along with her son, James. "I want to encourage him to be philanthropic," she tells us. "We're not immortal. Being able to give something that will continue to benefit future generations is very satisfying and humbling." As The Music Center celebrates its 50th Anniversary in December, Diane hopes to inspire others to make planned or endowment gifts. "I would love to see The Music Center so richly endowed that they can afford to offer even more student outreach and more free programs for the community. The next generation is our future, and this is a momentous time to make a meaningful contribution."
---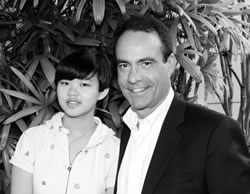 David Conlon with 2011 Spotlight Classical
Instrumental Finalist Anni Cao
DAVID CONLON
A Gift for the Future
David Conlon was 16 when he first visited The Music Center. The performance was Jean Sibelius' Symphony No. 1. The stage was the Dorothy Chandler Pavilion and the experience was life changing.
Growing up with classical music, or "serious music" as his mother called it, David knew classical music well. But, there was something different about watching Zubin Mehta conduct the LA Phil that made this experience so powerful. It was then and there that he decided, "Someday in the future, somehow and in some manner, I want to be a part of this." A little over a decade later, he made that dream a reality. In 1982, he joined the Fraternity of Friends, a support group of The Music Center that represents an outstanding cross-section of Southern California's community leaders and businessmen. The same year, he joined the Founders, one of The Music Center's top philanthropic groups, becoming one of its youngest members. He also enjoys sharing his passion for the arts with the next generation, serving as a host to Spotlight's young artists, one of his most beloved programs at The Music Center.
Two years ago, David decided to make an even greater commitment to the arts by making a bequest to The Music Center. When asked about why he gives, he talked about his experience during a backstage tour at ABT's Sleeping Beauty:
"I have always disciplined myself to have the greatest respect for theatrical performers. The tremendous effort, the scale and the complexity required to mount a theatrical production—all of which remain largely unseen to the audience—are incredible to watch. Seeing it firsthand was an honor and truly an unforgettable experience. I only wish all theatregoers would have this awareness and appreciation when they collect their tickets at the box office."
Preserving the arts for future generations is what inspired David to make his gift to The Music Center: "I felt that through my bequest, I could make a difference, I could make an impact on the future in a significant and permanent way."
David's legacy gift is a rich and lasting cultural heritage for the community. He hopes that The Music Center's programs continue to grow and expand, reaching new audiences and generations. At a time when arts funding continues to be cut, his commitment to the arts is truly visionary.
---
CHARLES AND RUTH GOLD
A Labor of Love — for Music and Each Other
Charles and Ruth Gold's relationship with The Music Center dates back to 1967. "Buffy" (Mrs. Chandler) solicited us herself," explains Ruth.
"Donating to The Music Center seemed a natural. For me, music is just an upper. There is nothing quite like it. It's a way of living." Move forward forty-five years and the Gold's contributions to The Music Center have topped $1 million. The culmination of this generosity was a planned gift consisting of cash and a bequest note.
But for the real story on the Golds — their love of music, and each other — you have to go back a little further. "I was born two days after the Civil War ended," quips Charles. The Golds have known each other since they were children and have been married for over 65 years. "We knew each other from childhood, but never intended on getting married," says Charles. "But 11 days after I got out of the service in 1945, we were."
"People always ask how we have managed to stay married for so long," says Ruth. "What I say is we never had to manage anything — we just had fun. And he's so caring and so smart. He's 94 years old and still sharp as a tack. I think I just lucked out." Charles feels lucky, too. "I think it takes some luck to last this long," he says. "She's a good lady. She tells it like it is. She's the one who calls the shots when it comes to The Music Center, too."
The Golds' modest philosophy regarding their gift giving makes the depth of their generosity all the more endearing. "I imagine people give money for all kinds of reasons," says Charles. "But if we decide we want to do something, we just do it. We don't want anything back for it. It's a labor of love." Ruth concurred: "We have two grown, successful children and beautiful grandchildren. That's an important contribution. And by giving to the Music Center we have really done something important, too."
And what does the future hold for the Golds? "It has been so wonderful and the time has gone so fast," says Ruth. "I just want to keep enjoying it." As for Charles, he couldn't resist getting in one more joke: "She still laughs at my jokes," he said. "If she ever stops that, she's out."